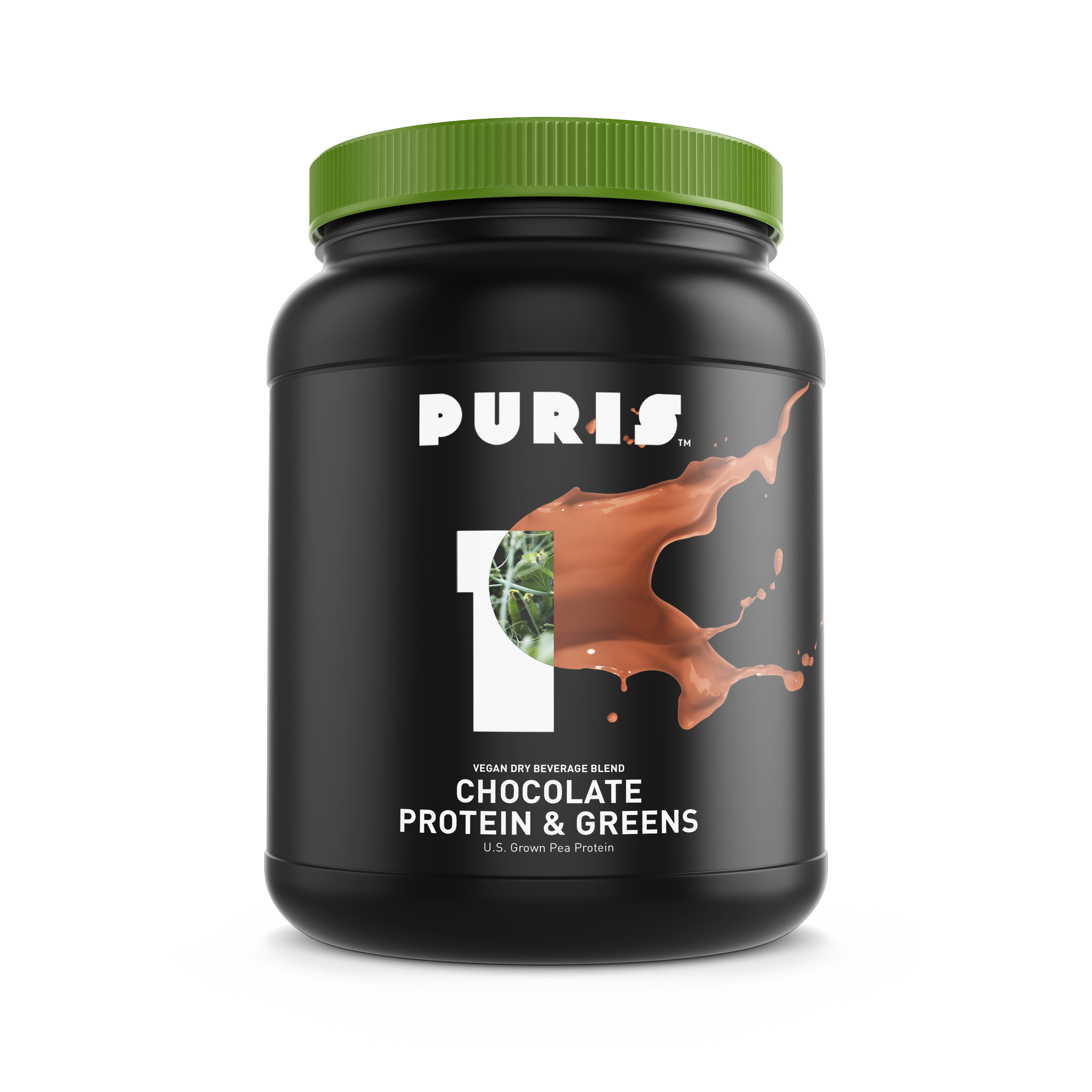 Member Access
PURIS Protein & Greens - Chocolate - Dry Beverage Blend
New
Made with our PURIS™ Pea Blend, this nutrient rich beverage blend is perfect for workout recovery and daily use. Simply mix with cold water.
Plant Based

Vegan

Grown in the USA

Made in the USA

Organic

Non-GMO

Soy Free

Gluten-Free

Allergen-Friendly
---
Attributes
Excellent source of plant-based protein with no added sugars.
---
Features
A full serving of vegetables in each drink.
---
Benefits
20g protein, sugar free, full serving of vegetables, reduces food waste by using more parts of the plant.
---
More about this product
PURIS™ believes in using the entire plant, which is why we've created our Pea Blend with plant-based protein, fiber, and starch derived from non-GMO yellow peas. This beverage blend is high in protein, low in sugar, and packs an entire serving of vegetables. If plant-based protein has left a bad taste in your mouth, prepare to be surprised. PURIS ingredients have some of the highest protein content on the planet with a satisfying chocolate taste and appealing texture that redefine what healthy food can be. With a protein source this delicious, you don't have to compromise between what's good and what's good for you. Who says you can't have it all?
Attributes
Purchasing
Sustainable Sourcing
Non-GMO
Our non-GMO seeds are naturally bred for use in our foods and ingredients.
Gluten-Free
Internally tested to ensure our food and processing meets the standard of gluten free.
Read Our Commitment to Quality
Transparent Supply Chain
PURIS™ Proteins have nothing to hide, both on the label and behind the scenes. All PURIS™ Peas are grown in the USA.
Seed Genetics
For a better food future, go back to basics. Simple, minimally processed PURIS ingredients are grounded in trust from the seed up. Our end-to-end process begins with naturally bred non-GMO seeds, continues with our network of certified-organic U.S. growers, and carries through contamination-free processing facilities. The result is super-clean foods the most conscientious eater can love.
Supporting Sustainable Farming
Our mission to connect growers, makers and eater has always been grounded in building sustainable solutions for the PURIS Grower Network. United with our network of forward-thinking growers, PURIS is leading the world away from untested sources and impacts to restore knowledge, control and trust to our food system.
Future of Food
By using PURIS ingredients in your products, our story of sustainability can become a foundational proof-point for your customers.
---
Product Comparisons
---
Product Attributes
| | PURIS™ Protein & Greens - Chocolate |
| --- | --- |
| Plant Based | |
| Allergen-Friendly | |
| Non-GMO | |
| Available in Organic | |
| Gluten-Free | |
| Made Without Soy | |
| Clean Label | |
| Made in U.S.A. | |
Get more information about PURIS Pea Protein 870H (P870H).
Request Information
Fill out the form to request more information about PURIS Protein & Greens - Chocolate - Dry Beverage Blend.